Social media isn't limited to connecting and communicating with your friends and family. It has the potential to promote your business and reach out to potential customers to achieve your business goals.
Businesses, influencers, artists, and digital creators use social media to increase followers, convert potential customers, generate leads, and increase revenue.
As per the Digital 2022 Global Overview Report published by Hootsuite and We Are Social, the number of social media users has increased to 4.62 billion in January 2022.
That means more than half of the world's population is on social media today. It shows that if you don't promote your business on social media, you're missing a lot.
To get the best out of social media, you must understand your target audience and their behaviour. And then stay consistent in putting content to bring something new to the table daily.
That seems like a huge workload when you're busy managing your core business activities. I understand it's like managing another business when you need to manage your social media profile. That's where a social media content writer comes into the picture.
In this post, you will know what these writers do and why you should hire one.
Who is a Social Media Content Writer
A social media content writer is an individual who creates written and visual content for your social media. The most common kinds of writing are status updates, tweets, pins, and posts.
Knowing your audience is essential if you want your content to be successful. For example, a business selling wedding gowns create different messages than a pizza delivery service.
A social media content writer knows what content distribution tactics would be best for reaching and engaging with your target audience.
Each business might have one or two specific platforms where it can perform best.
Your social media writer can decide which social media platform is the best for your business.
Hiring The Right Social Media Content Writer
Knowing what you want to achieve from social media before hiring a writer or agency is vital.
Are you trying to increase your website traffic?
How often will you post?
How much content do you need per week, month, or quarter?
Discussing your content calendar with your content writer to meet your social media marketing goals would be best.
Be specific with your needs and expectations from social media. Because it will make it easier for you to find what you are looking for.
One more question you can answer is how long you need to work with a social media content writer.
Knowing why you're using social media will help you identify what services you need from your content writer.
They can be like;
Get more followers on Instagram?

Maybe even build an email list of subscribers?

Do you need fresh, original content, or do you want to repurpose your published content?
There are several social media content writers, each with its specialities. Depending on your needs. You can pick one for all your social media platforms or someone who specializes in writing for any particular channel.
The number of content pieces you need will affect your decision as well.
Choosing an individual is better than an agency if you only need fewer posts and tweets because an agency charges more than a freelance content writer.
Benefits of Working with a Social Media Content Writer
Someone dedicated to creating social media content can benefit your business in many ways.
A content writer is your best resource for creating relevant and compelling content for your audience. Using Facebook, Twitter, LinkedIn, Instagram, and Pinterest can drive traffic back to your site and convert it into sales.
With so many different types of platforms available today, it cannot be easy to know where to start.
Especially when you're just starting with social media, you probably have many questions. You might be unsure of how to develop your social media strategy.
Do you need a plan for each platform?
How do they all work together?
Your social media handles are your precious business assets and need a solid strategy to deliver the best results. Keeping up with each channel on your own is challenging.
So, why not let someone do the job for you who specializes in social media content writing?
Social Media Content Writer Will Save Your Time
Writing your posts and brainstorming content ideas can be overwhelming when managing a business. So, you can outsource it to a skilled social media writer cum manager.
These social media experts will save you time and effort, which you can use in developing other business opportunities.
And Second, You Save Money
It's like having an extra employee without paying for insurance and payroll taxes. Your content writer can also help with specific tasks that don't necessarily fall under other marketing areas. That can save some of your money for marketing and advertising.
Generating Multiple Forms Of Content
You need different forms of content for various social media channels. Because every social network has a different algorithm, also, you will need a multi-type content strategy to distribute other forms of content.
Like; 
Facebook Posts (including images) tend to work better than links. Text-based content works best on LinkedIn and Twitter.
A social media caption writer generates content per your buyer's type and business objectives.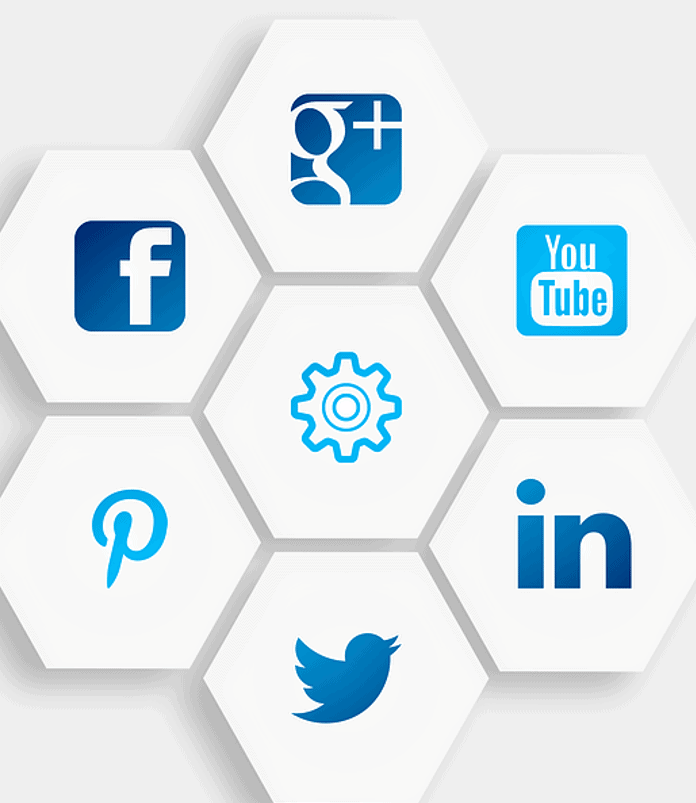 "Social media have grown from a platform of connecting with friends and family to a way of doing business. Today organizations market themselves, interact with customers, generate leads, build networks and increase followers using social media."
Social media can also help you maintain customer relations by engaging and solving customer queries.
But how does content on social media play all these roles?
Your social media content writer can answer this best once you share your purpose of using social media with them. So, hire one for your business.
Types of Content for Your Business
Content is often used interchangeably with words like material, information, and product.
But in the kingdom of content marketing, content refers to any kind of media that businesses create or curate for consumers.
Choosing what content to publish on social media channels and when depends on your business. For example, if you run an e-commerce company that sells organic soap, you prefer publishing images, not recipes.
You can create shareable content to make viral or evergreen content with instructions for using your product.
Shareable or viral content is what you should post first because viral content encourages people to share your content piece to get more eyeballs.
It needs to be relatively short, full of emotional pull, and highly sharable through different social media channels.
Evergreen content builds off shareable, viral content by acting as supplementary material.
Your users can always return without feeling flooded by ads or sales pitches with evergreen content. For example, include tips and tricks for using your product on how something works.
There are many different types of content work in social media marketing. Some famous examples include:
-Articles or blogs (in-depth articles about your product or business and opinion pieces about industry trends)

-Infographics (visual information that can easily share on social media)

-Video (short and informative videos you can post on Facebook, Instagram, and Youtube)

-Stock photos (high-quality images that illustrate various trends your customers may experience)
These suggestions for social media content would work well for your business.
How Frequently Should You Post
How often you post to social media depends on your industry, target audience, and business goals.
If you're launching a new product or service, it might make sense to post every day.
But if you have time-sensitive news that comes occasionally, you should not flood social media with repetitive content.
Posting too frequently can annoy your followers. So, post frequently enough that people don't forget about you. Also, it doesn't make sense to post much that they stop engaging with your content.
In addition to posting frequency, how long each of your posts should be? It depends on the platform and section of that platform you are creating content for.
Are you publishing tweets? Posts? Facebook videos?
Keep a balance between briefness and providing complete information for different social media channels.
Like, in the case of Twitter;
Keep individual tweets under 280 characters. Use two spaces after periods instead of one space for maximum readability.
Most importantly, choose an eye-catching yet straightforward message. LinkedIn allows 3000 characters, including spaces in a single post.
Your social media writer knows what type of content performs best in certain situations. So, hire one for your online success.
Social Networks
You can use social media to build a personal brand, engage with your audience, and promote your business.
Twitter
You can tweet your messages crisply and concisely on Twitter because it has a 280-character limit per tweet. Twitter keeps changing its algorithm to ensure that the right content reaches the right people for better engagement.
Your message gets a higher reach based on recency, relevancy, engagement, usage of graphics, and relevant hashtags. Your followers' score and geographic location also matter for the reach of your post.
In addition, keeping your profile optimized, spending time on the app, and posting relevant content also matters.
You can tweet 2-7 times a day during peak hours when your target audience is active on the platform.
Text-based content works best on Twitter. However, you should also include images in some tweets.
You should only post videos if needed because videos are the least favourable on Twitter.
A social media content writer knows all those factors and can create content keeping that works best. He can generate content to spread your brand awareness that works best on Twitter.
Facebook
For a better user experience, Facebook keeps changing its algorithm. It shows relevant news, updates, and other informative content per the user's behaviour.
"Posting engaging content at the right time to inspire and entertain your audience gives you success on Facebook. You can also keep engaging with your audience and answer their question to get the best out of the platform."
Video and images perform best on Facebook. So, you can strategize video scripts for your Facebook page with your social media content writer.
Your content writer can also generate intriguing content for your product-related images to share on Facebook.
Your content writer can write content for Facebook status, videos, images, and posts to make your brand visible on Facebook.
LinkedIn
LinkedIn has become much more than finding jobs and hiring the best assets for your business. You can use LinkedIn for networking, branding, lead generation, and customer interaction.
Text-based content works best on LinkedIn. So, you can ask your social media content writer to create informative, shareable content to post on LinkedIn.
Also, you can post videos, pictures, and images in a carousel format in a few of your posts. Using relevant hashtags in the about section of your profile and posts is always beneficial.
You can share brand stories, business news, and other information using compelling content writing on LinkedIn.
Your social media writer cum manager can tell when and how frequently you should post on LinkedIn. He can do it for you by understanding your business objectives and target market.
For networking purposes, you can engage with your target audience by leaving valuable comments on their posts.
Instagram
Instagram is the top social media channel for engagement and finding an active audience.
You can build your following by sharing valuable content through posts, stories, and reels on Instagram.
Also, you can check what top leaders and your competitors are doing by following them on Insta.
It is one of the best platforms for online visibility and engaging with your customers. Also, you can link your Instagram page to Twitter, Tumblr, and Facebook to share content.
The best way to maximize Instagram presence is by using relevant hashtags for their brand or industry.
You can hire your social media content writer cum manager to plan a content strategy for this great social network.
Partner With Your Social Media Content Writer
It's never too late to start using social media to grow your business. Start increasing your brand presence by posting consistent content and engaging with your audience on social media.
So, hire a social media content writer to build your brand or increase your visibility.
He can help you attract more customers, expand your market reach, and grow revenue with the help of social media.