You understand the importance of a strong online presence in today's digital age.
But creating content that ranks on search engines and appeals to your customers takes creativity, effort, and time.
You might have tried writing content on your own but, not getting results often stops you.
Also, consistent content creation becomes overwhelming when you already have a lot to manage your business.
Now, it frustrates you to spend time and resources on content writing that doesn't convert your next customer.
That's why outsourcing your content writing work to an SEO content writer becomes a wise decision
Hire someone who has the expertise and experience to write content that ranks on search engines and resonates with your readers.
In this blog post, we'll discuss the importance of SEO content writing, the benefits of hiring an SEO content writer, and how to find the right content writer for your business.
By the end of this post, you'll understand why you should hire an SEO content writer to take your business to new heights.
So, let's get started.
Why SEO Matters?
Digital marketing is about making your online business visible to users and convincing them to buy your products.
You are putting your best into creating high-quality content, but your efforts will be unsuccessful if no one reads it. Making your presence online requires a lot of strategies that work hand in hand with each other.
One of these strategies is search engine optimization (SEO).
SEO helps businesses appear in organic searches when potential buyers use specific keywords to fulfill their intent.
Here is what the experts say:
1. As per research conducted by Brightedge, 68% of website traffic comes from search engines, and from SEO alone it is 53%.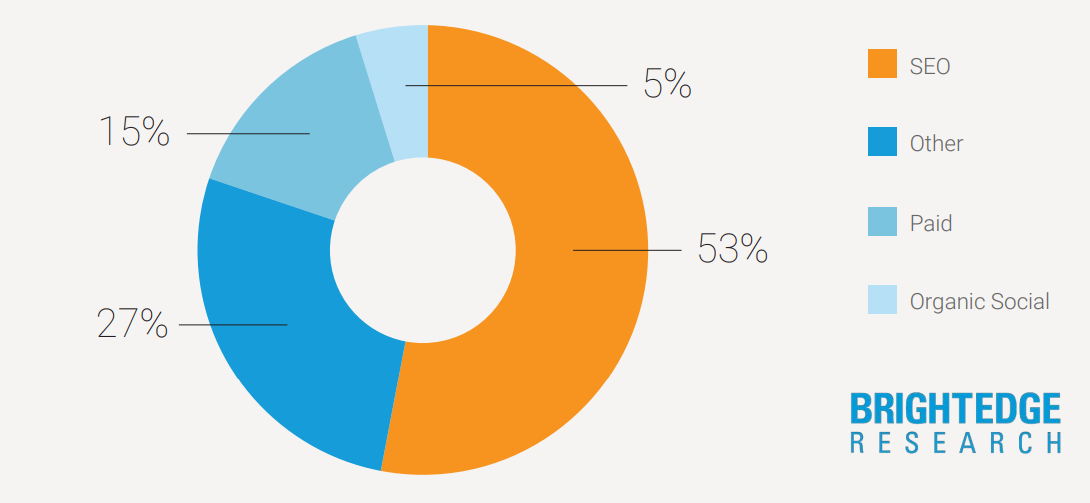 2. Only 0.78% of searchers visit the 2nd page of Google — Backlinko.
3. As per Ahrefs, 69.7% of search queries contain four words or more. SEO content writers can create quality content with long-term keywords.
4. Research conducted by Sparktoro says, 92.96% of global traffic comes from Google Search, Google Images, and Google Maps.
5. A survey by Hubspot reveals that inbound (SEO, blog content, etc.) is the highest quality source of leads for 60% of marketers.
6. Leads that come from SEO have a 16.4% close rate, says Hubspot.
To stay ahead of the competition and appear in search results, collaborate with a freelance SEO Writer.
"SEO content writer is your best partner to work with to win more customers without spending much on paid promotion. "
Importance of SEO Content Writing
SEO content writing is important to improve your search engine rankings, generate organic traffic to your website, and increase your online visibility.
It begins with researching and selecting the right keywords. Creating high-quality content around those keywords. Optimizing content in such a way that it resonates with readers and ranks on search engines.
With SEO content writing, you can attract more potential customers to your website, increase‌ your brand awareness, and convert your website visitors into customers — which eventually increases your revenue.
In short, SEO content writing helps you grow online in the long run without spending a dime on paid ads.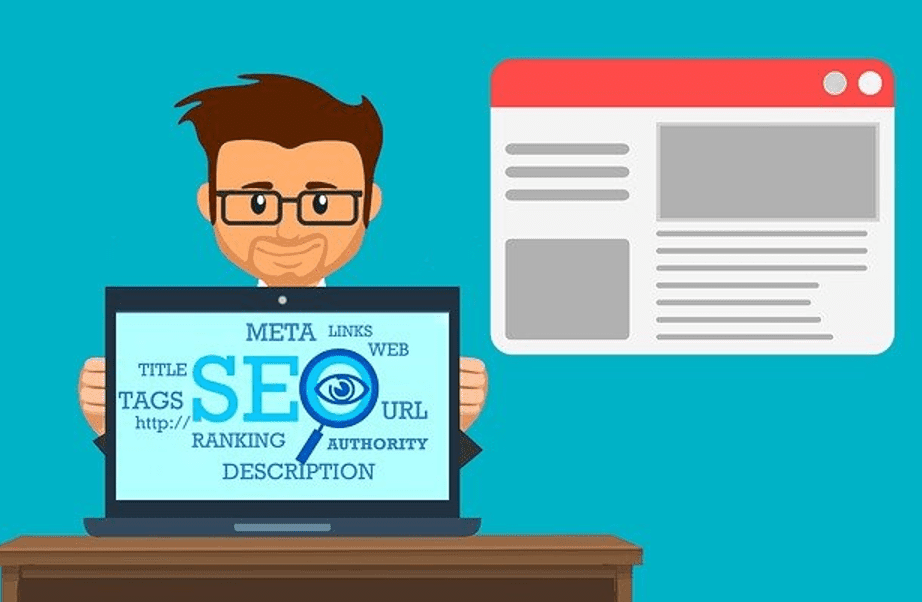 What an SEO Content Writer is and What They Do
An SEO writer knows how to do keyword and content research using different tools. They produce high-quality content in and around relevant keywords, optimize content with best SEO practices, and make it appealing to your readers.
SEO writers create content based on search engines' guidelines without spoiling the user experience.
They write and optimize content that ranks higher in search engines to drive more traffic and convert that traffic into customers.
SEO writers also optimize visual content to gain visibility for image and video searches.
To create high-quality content, they conduct immense market research to understand the target audience and competitors and find industry trends. To do that, they run surveys and polls and interview your marketers, salespeople, and customers.
Along with proficiency in writing and communication, content writers keep them updated with search engine algorithms and SEO best practices.
SEO Content Writers Vs General Writers
Both SEO content writers and general writers create content, but few advanced specializations set SEO writers apart.
SEO content writers possess advanced SEO skills to create and optimize content that ranks on search engines, whereas general writers may not have such knowledge.
General writers simply write content on a topic. An SEO writer conducts extensive keywords and content research, finds credible sources to back up the information, and optimizes it for both readers and search engines.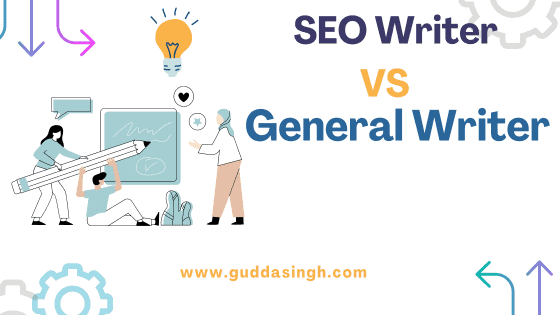 SEO content writers take care of potential keywords, content structure, and readability scores to create engaging and high-quality content.
Whereas general writers may not focus on all these parameters. To improve your online visibility and grow your business organically in the long term, you can go with an SEO content writer.
Benefits of Hiring an SEO Content Writer
Here are a few benefits of hiring an SEO writer —
Improve your search engine rankings: An SEO content writer creates and optimizes content as per the latest search engine guidelines to make your website visible in SERP (search engine results pages).

Helps you attract organic traffic: SEO writers create appealing content that improves your CTR, drives more organic traffic to your website, and increases your conversion and sales.

Boosts online visibility: Producing high-quality content consistently, an SEO writer enhances your online presence and increases your visibility on Google and social media.

Develop a consistent brand voice: An SEO content writer also helps you develop a consistent and unique brand voice. Doing this establishes a strong brand identity and connects with more customers.

Save time and resources: Hiring an SEO content writer can save you time and resources that keep you focused on other important aspects of your business.
3 common Myths About SEO Content Writing
SEO writing has several myths, but these 3 are so common. Stop believing them to unleash the full potential of SEO.
1. SEO content is just stuffing keywords
The most common misconception is that repeating your focus keyword as many times as you can helps you rank higher. But that's not true.
Keywords are important but they should involve in your content naturally. Also, it is unnecessary to write your main keywords many times.
You can use related keywords to boost your ranking. Keyword stuffing irritates your readers and they leave your website, which ultimately dips your ranking down.
Good SEO writers focus on creating high-quality, informative content that is valuable to readers.
2. Anyone can write SEO content
Do you also believe that anyone can write SEO content?
Yes, you can write basic content, but it takes effort to stay updated with SEO trends and write SEO-based content.
In SEO content writing, you need to please both your customers and search engines, which takes time to master.
SEO content writers also stay updated with the change in search engine algorithms, industry trends, and audience behavior to generate relevant content.
3. SEO content is not important for my business
You may believe that SEO content is not important for your niche. However, regardless of the industry, creating SEO-optimized content can drive free traffic to your website, attract more customers, and establish your brand as an authority.
The SEO content writing process
Keyword research – SEO content writing starts with keyword ideas and then keyword research. SEO writers use different tools and Chrome extensions to select keywords with high-potential and low competition.

Understanding the target audience – Before start creating, writers do deep research about the target audience. They understand the pains, interests, and aspirations of your target audience. The deeper understanding they have regarding your target audience, the better content they write to connect with them.

Creating an outline – After keyword and audience research, your writer does extensive content research and creates outlines. During content research, content writers gather statistics, quotes, and examples to back up the content. Outlining also helps them to organize ideas and structure content.

Writing high-quality content – Once the research part is done, the SEO content writer writes engaging, informative, and relevant content for your audience. They include target keywords naturally throughout the content so that it doesn't feel forced or spammy.

Optimizing content – After completing the first draft, SEO writers optimize content for search engines. They improve the meta title, meta description, hook, sub-headers, and conclusion of the content to make it more compelling.

Editing and proofreading – Before submitting the final draft, your writer reviews the grammar, spelling, and readability.
If you consider hiring an SEO content writer, here are seven reasons that make it the best decision for your business.
1. To Generate Quality Content
The internet has been flooded with low-quality, spun text that can get your site penalized.
Usage of the internet is on the boom, and the creators' economy is growing day by day. As per a study, around 7.5 million blog posts are published every day in 2023. However, most of these blogs' content is low quality, spun, and doesn't meet search engines' guidelines.
To stand out in the crowd, drive traffic, and win more customers, your business needs high-value content with no fluff.
Also, Google has mentioned in its Panda Update, it will not associate businesses with spammy or irrelevant sites. That means content with low quality, duplicate content, thin content, content farming, and content with a high ad ratio will not rank on Google.
That means, to appear in SERP, you need to publish relevant and high-quality content on your website that solves users' problems and meets SEO guidelines.
An SEO content writer understands all these Google updates and keeps them in mind while crafting content for your website or blog.
For instance, when you require two articles on a similar topic, an SEO content writer produces two entirely unique but relevant articles while ensuring both stay on-topic.
image source
Hiring an SEO content writer saves you time and provides more control over the content you put up on your site.
Your writer will make every piece of content user-friendly and search-engine-optimized, which is the best return on your investment.
Not only does high-quality text drives more traffic, but it also helps establish trust with users. After all, Google isn't going to associate business with spammy or irrelevant sites.
2. To Structure relevant keywords
SEO content writing begins with keyword research, and it is crucial to use the right keywords to make your content user-friendly and appear in search results.
An SEO writer knows which keywords to choose based on your domain authority and other relevant ranking factors, whether high or low competition.
Ahrefs, an SEO tool, provides some interesting statistics about keywords that people use for Google searches.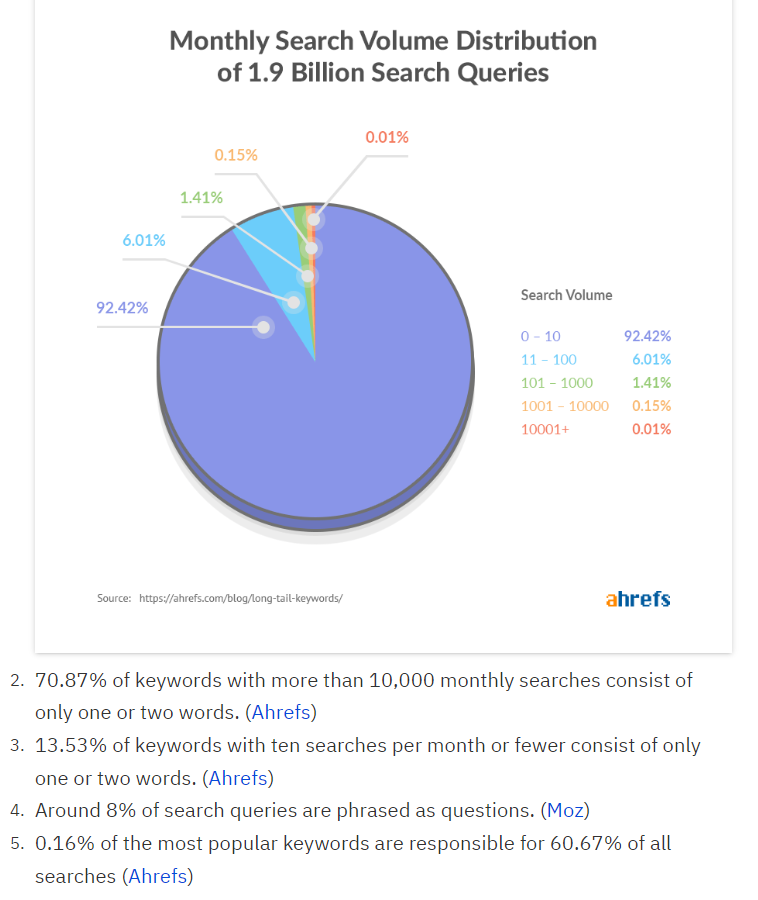 Your SEO writer knows how to find potential keywords using various SEO tools. He can produce content that revolves around those keywords that give more exposure to your business.
He knows which keyword to choose, high competition or low competition, based on your domain authority and other relevant ranking factors.
The primary goal of SEO writers is to optimize your website content for both users and search engines.
They use relevant keywords effectively in the title, meta description, sub-heading, and throughout the web page or blog post without affecting the user experience.
This will improve your ranking in search results for keywords with high potential. That eventually increases your website traffic and conversions.
3. To Update And Re-Optimize Your Website Content
Updating your website/blog content is important to keep up with the changing trends and industry updates.
An SEO content writer constantly checks if there is existing content on your website that they can update or repurpose for an SEO boost.
Also, if any of the content is performing low, your content writer re-optimizes that to improve click-through rate and conversion.
For example, they can re-optimize headlines and meta descriptions for better CTR. They change the introduction and call to action to make it more engaging and high-converting.
Google also gives preference to up-to-date and fresh content. So it's always beneficial to update existing content on your website to keep the information relevant to the search queries.
A good SEO content writer is an expert on various platforms, including different social media channels. Since Google keeps changing its algorithm, it's essential to keep optimizing and updating existing website content for an SEO boost.
Your content writer also repurposes your top-performing content for different channels to meet your business goals.
"To stay on top, it is important to keep optimizing website content as per the search engine's updates and ongoing market trends."
An SEO content writer ensures that your website SEO doesn't impact when updating your old content.
4. To write with a consistent tone and Unique Brand Voice
It's essential to maintain a consistent tone and unique brand voice in your content to build brand identity and connect with your audience.
Readers identify your brand voice through your content, and if you write in a different tone, they may lose interest in your brand.
That's why it is important to publish content in a consistent tone that reflects your unique brand voice.
An SEO content writer understands the importance of your brand voice and maintains a consistent writing tone throughout your content.
Expert writers know how to create unique content that performs well in search engines, attracts traffic, and drives conversion.
By keeping the writing style and tone consistent, your audience remembers your brand identity and keeps revisiting your website. They prefer you over the competitors when they're ready to purchase.
Your SEO content writer can ensure that your content remains true to your brand voice, which can help your brand stand out in the crowded market
5. Attention-Grabbing Headline And Intriguing Hook
A good headline plays a huge role in content creation.
It's the first thing that readers see and can determine if they continue reading.
The headline is the first impression of your content and can make or break your chances of capturing your audience's attention.
Your headline should grab the attention of your audience and clearly tell what they're going to get reading the rest of the content.
According to Digital Doughnut, your content won't get attention if your headline misses the mark.
A good headline grabs the reader's attention and accurately reflects the essence of your content.
A misleading headline will negatively impact your credibility and result in a high bounce rate, because readers may leave your website if they feel misled.
A professional SEO content writer understands this and can write compelling headlines that rank your pages higher in organic searches and increase your click-through rate.
Also, an SEO content writer creates content with intriguing hooks and great storytelling that keeps your audience engaged — and motivates them to hit the call to action button.
By doing so, readers will trust your brand even more and won't feel cheated.
6. Writing Different Forms Of Content
To achieve your business goals, you need high-quality content in different forms that cater to various sections of your website.
These include website copy, blog articles, product/service descriptions, brand story, vision and mission statement, lead magnets, calls to action, FAQs, and more.
However, creating high-quality content takes time and expertise. That's where a skilled and experienced SEO content writer comes in.
An SEO content writer possesses the expertise to write various types of content in different tones and styles for different sections of your website.
They can create and optimize your website content effectively by keeping your brand messaging accurate. That's how they help you get the most out of your content marketing strategy.
They know what kind of content to write and how to optimize it to drive organic traffic and improve overall performance.
Especially, time is more important — You don't want to spend so much time trying it on your own with trial and error or hiring a writer who doesn't know much about content marketing and SEO.
So, hire an SEO content writer who knows how to write better for online audiences and search engines.
By working with a professional, you can save time and get content that meets the highest standards of quality and relevance.
7. Understanding Your Content Needs And Deadline
SEO content writers conduct deep research to understand your target audience and business goals to produce high-quality content.
With the right expertise and knowledge in hand, they can complete the project on time.
They know how to conduct research and find the right keywords to increase visibility and attract traffic to your website.
It's important to set clear expectations with your writer, like content type, goal of content, service cost, and deadline. These things are critical to discuss upfront to ensure that everyone stays on the same page.
Moreover, SEO content writers know how to use different tools and software to complete the project on time, missing no parameters.
You won't have to think much after hiring a professional writer. Because your content marketing writer can produce content that meets your content strategy and business goals.
Is hiring an SEO Content Writer Worth It?
Although hiring an SEO content writer may seem costly at first, however, it is worth it.
They craft and optimize your website blog content to improve ranking, traffic, and conversion.
Do you want to:
Publish engaging and relevant content consistently.
Convey clear and concise brand messaging.
Make your content visible to potential customers.
Your audience to engage with and share your content?
Hook your visitors and persuade them to click the call to action button.
If you answered "yes" to any of these questions, then hiring an SEO writer is the best decision you can make to grow your business.
Get a free quote from a freelance writer or content writing agency to discuss your content needs with a professional content writer and see how they can help.
Key factors to consider when hiring an SEO content writer
During the hiring process for an SEO content writer, you need to consider several key factors. Such as relevant experience, expertise in content writing, SEO knowledge, research skills, portfolio, communication skills, and price.
Before making your decision, you can check their experience in your industry or niche to ensure that they can meet your content needs.
You can ask for a few published samples or a link to the portfolio to gauge their writing skills. When going through your writer's portfolio, analyze if they possess the ability to write engaging and persuasive content that resonates with your target audience.
Also, check if writing samples in their portfolio are meeting search engine guidelines without spoiling users' experience. You can ask this in initial meetings how confident are they about their SEO writing skills.
See if any of their published samples are already ranking on Google.
Make sure they have strong research skills and the ability to create unique content to set your brand messaging apart.
Review the writer's portfolio and social media profile to measure expertise and experience.
Strong communication skills and work ethics equally matter, so make sure your writer has them.
Finally, discuss the service price to ensure it meets your budget and the best return on your investment.
How to Find an SEO Content Writer
You can search for content writers in various ways. You can explore job boards like Upwork or Fiverr, to find freelance writers with SEO writing experience.
You can ask for referrals in your network. People in your network can suggest to you the best writer who already served them in the past.
Social media platforms like Facebook, Twitter, and LinkedIn are the best place to find and connect with credible SEO writers.
Job boards are great but, social media platforms like Twitter and LinkedIn can help you connect with your writers by first going through their profiles.
Connecting with your writer on social media can help you understand them better. You can visit their social profile and read a few posts to understand their personality, writing style, and communication skills, which is important to consider them a right fit.
If you don't have time to go through the hiring process, you can contact a consultancy to do the human resource job for you.
To sum up —
I'd say hiring an SEO content writer is one of the best decisions you make to grow your business organically.
Go for a writer who can create high-quality, SEO-friendly, error-free, well-structured, easy-to-understand, and engaging content. This will help you drive free traffic to your website, engage with your visitors and convert them into customers.
If you're a small business, startup, or blogger looking to grow your online presence, you can submit this contact form to have a free consultation call with your content writer.
Get a free quote today and hire your content writer for your online success. Here is the link to reach out to your SEO content writer.
FAQs related to SEO Content Writer
How much does it cost to hire an SEO content writer?
The cost of hiring an SEO content writer varies depending on their experience, expertise, and the scope of the work. However, you can expect to pay anywhere from $50 to $200 per hour or $0.10 to $0.25 per word.
Can I do SEO content writing myself?
It's important to have the right expertise and knowledge of SEO best practices to do SEO writing. If you possess them, then you can SEO writing yourself. But, if you can't create high-quality content that resonates with your potential customers and ranks on search engines, outsourcing is the best decision.
How long does it take to see results from SEO content writing?
It takes several months to see results from SEO content writing. Because search engines take time to crawl and index the content. Keep publishing high-quality content targeting the right keywords and your ranking will improve over time.
How does an SEO content writer help with search engine rankings?
An SEO writer creates and optimizes content for search engines using relevant keywords, proper heading tags, and best on-page SEO practices. This can improve the website's visibility, traffic, and conversions.
What are the benefits of hiring an SEO content writer?
SEO content writer produces high-quality content consistently that increases your ranking, visibility, and user experience. Eventually, you get more traffic, more conversion, and more customers.
What to look for when hiring an SEO writer?
When hiring an SEO content writer, look for expertise in SEO content writing, research skills, adaptability, and flexibility. For this, you can visit their portfolio, scroll through social profiles, and have a call with them.