Being a business owner, you already have a lot to work on, and writing quality content consistently is another stress.
It's not that easy to find a freelance content writer who can produce quality content that resonates with your audience, ranks on search engines, and meets your business goals.
Perhaps you have hired freelance writers in the past but, they didn't meet your expectation. Now, it's becoming more challenging whom to trust and go with.
You hop on several job boards and tried different social media channels, despite that, it is overwhelming to find the right fit. Because you need to consider several factors to get quality content that communicates your messaging effectively.
No more frustration!
In this post, I'm going to explain all the important matrices to consider when hiring a content writer.
Let's dive in!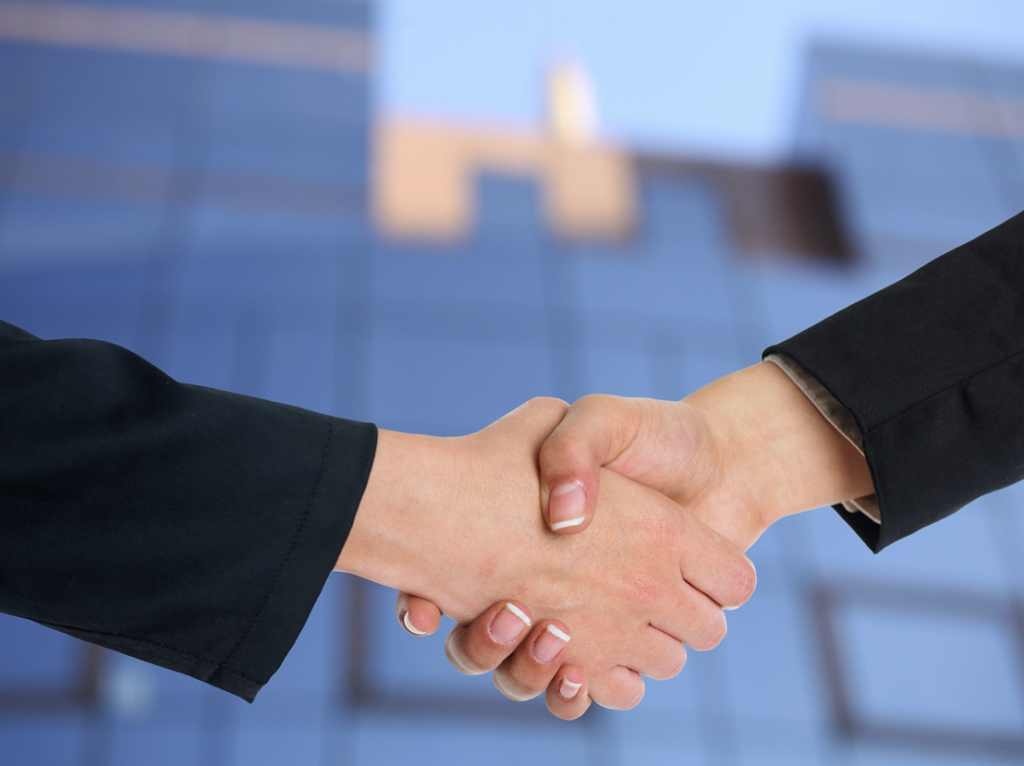 Why Hire A Freelance Content Writer
It is quite disturbing when your ads appear in their favorite videos. Your target audience prefers blocking ads instead of clicking them. That means you're investing money to run ads, but your customers are not converting.
That's why businesses, marketers, and advertisers are switching to content marketing.
In content marketing, you add value to your customers' lives by consistently putting relevant content to your customers' feeds. The more you help them through your content, the more likely they trust you and ultimately buy from you.
To reach this end goal, you need to create high-quality content for different stages of your customer's journey that address their pains and help them grow a step forward.
Creating consistent and relevant content for various platforms requires a lot of time and creativity. To deliver your brand messaging effectively, you don't need anyone but a content writer who has a strong grasp of content marketing.
You can try it yourself, but your business requires your full energy and focus. That's why it is the right decision to hire a freelance content writer.
How Does a Freelance Writer Work
A freelance writer offers content writing services to businesses on a project basis. Most freelance writers work in multiple niches, however, a few target certain industries based on their interests, experience, and expertise.
A content writer starts with understanding your needs, preferences, and business goals. Further, they clearly understand your target audience, the writing style, and the tone to convey your brand messaging.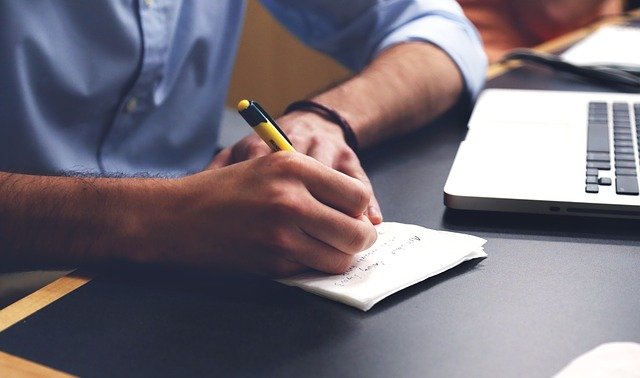 Most of the writers, especially those working on long-term projects, share a proposal and contract terms with you to ensure both parties work with no misunderstandings.
With all the information, the content writer creates an outline and submits it to you for approval.

Once you find the outline perfect, the writer then conducts deep research and creates the first draft.
They research for reliable sources to collect stats, quotes, and studies to back up the information they're mentioning in the content.
After completing the first draft, your writer submits it to you for review and feedback. Then they make the required edits and submit the final draft for approval.
During this whole process, the freelance writer communicates with the client to ensure the content meets the set expectations and requirements.
For payment terms, most writers work with some advance payment and then send‌ you a second invoice in the middle or after finishing the project. You can discuss the payment terms and service price upfront.
Freelance Writer vs Full-Time Writer
Deciding between a freelance writer and a full-time writer depends on your content needs and your budget.
A full-time writer can work with a greater level of commitment to grow your business. Working with a full-time writer, you can closely monitor the work and give live feedback to ensure the content they produce aligns with your business goals.
Freelance writers offer flexibility and the ability to tap into specialized expertise. They're often available to work outside of regular business hours and can bring fresh perspectives and diverse experiences to the table.
Freelancers cost less because a full-time writer also needs office space, equipment, and other perks related to full-time employment.
Full-time writers are often less productive and produce lower-quality content, especially if they are not passionate about their work or are feeling burnt out.
On the other hand, freelancers deliver higher quality work because their reputation and future business rely on it.
Not every business can afford a full-time or in-house content writer, especially small businesses or startups with limited budgets. In this case, hiring a freelance content writer is the best decision.
You can find your business needs, decide your budget, and then decide whether to hire a full-time writer or go with a freelancer.
Things To Consider When Hiring A Freelance Content Writer
So far, you must have decided why to choose a freelance writer over an in-house writer.
Mostly, business owners think that hiring a full-time content writer is the best choice for them. You might also think that hiring a full-time writer will work with consistency and control over the content creation process. However, this is not the full truth.
You pay additional costs apart from the work they do. Hiring a full-time writer will cost you consistent paychecks whether or not your business demands content.
You also spend on their training, office space, and other equipment. While a freelance writer comes with different specializations working with many clients across different industries — you only pay for the work they deliver.
Once you have your full-time writer, you may not have the budget to hire more writers with different specializations, but going with freelancers gives you a choice to go with a different writer for every new project based on the expertise it requires.
Plus, they can work as per your business needs outside of business hours, which provides flexibility and scalability.
Identify Your Needs
Before hunting for a freelance writer, identify your content needs based on your business goals.
What type of content do you need?
For which platform do you need content?
How that content will communicate your messaging to your target audience to get desired results?
Do you need blog posts, articles, product descriptions, or social media content?
Decide upon these content types because different content requires a different approach and style.
Another notable point is the amount of content your business need and how consistently you need it. This helps to set an expectation for your freelance writer to deliver quality content.
Moreover, you can also discuss the tone, style, and brand voice of the content to publish it with consistency across different channels. For example, if your brand has a formal tone, your content should reflect that.
Also, you need to instruct your writer to match your brand image, whether it's witty or informative.
Once you have determined your requirement, you can set up your expectations in the initial meeting with your freelance content writer to select the right writer.
Setting up clear expectations based on your content requirement, you get quality content with the least amount of revisions to save time and money.
Guage their expertise, Ask for samples
When hiring a freelance content writer, it is important to know whether he has the expertise to write high-quality content that aligns with your business goals. The best way to do this is by checking their portfolio of published samples.
By reading writing samples, you can evaluate your writer's writing style, tone, and voice if that resonates with your target audience or not.
You can also assess their ability to write in different formats, such as blog posts, website copy, social media posts, or product descriptions to understand if they can write as per your content marketing strategy.
When reviewing a writer's portfolio pay attention to the quality of the content, such as content structure, writing flow, and the use of proper grammar and spelling.
See if their writing can convey your messaging effectively that engages your target readers. It's a plus point if your freelance writer has experience in writing for a similar target audience as yours.
In case they haven't written in your industry before, ask for a custom writing sample. If you're starting out and have a low budget, then you can hire a newbie content writer. But, don't forget to ask for a free or paid sample to gauge their ability.
Also, check if they're professional enough to deliver the work as per a set deadline.
Pay attention to their responsiveness, willingness to take feedback, and make revisions. These qualities are just as important as the ability to write high-quality content.
Set A Budget
Before hiring a freelance writer, setting up a budget is also important. How much are you willing to spend on content creation to meet your business goals?
You can find low-priced, medium-priced, and high-priced content writing services.
Every content writer setups their rates as per the experience they have, the expertise they possess, and the content type your business needs.
Initially, a cheaper option will tempt you, but it's notable that you get the type of services you pay for.
Investing in a skilled content writer may cost you higher but will pay off in the long run. Because they can produce high-quality content that resonates with your target audience and optimize it with the best SEO practices.
Know the standard market rate to produce high-quality content, the amount of content you need for your ongoing project, and how often your content writer needs to write for you.
Also, finalize the level of expertise your writer should possess to write the quality content your business needs to drive desired results.
Some writers charge per word basis, some hourly basis, and some per project basis. When discussing the fee, discuss the payment terms and payment methods to transfer funds.
Mostly, professional freelancers charge some percentage of the fee upfront and the rest of the amount after submitting the final draft.
When setting up a budget, make sure you're making a smart investment. With a pre-decided budget, you can search for the right content writer within your price range, which saves you time and effort during the hiring process.
Basic Content Writing Parameters
Discuss the content parameters you'll gauge the quality of content your writer delivers. It is highly recommended to make it SEO-optimized and 100% plagiarism free.
Discuss with them you don't want something to disguise the search engine for higher ranking, but to convert your website visitors.
Ensure the content they deliver meets Google's helpful updates and represents you as an experienced, expert, authoritative, and trustworthy.
Instruct them to write in a free-flowing tone to meet search intent and not confuse your target audience.
Use only authentic sources to validate the information of the content. Because inaccurate information can damage the credibility of your brand.

Ask them to mention credible sources and backup data to support the information in the content.
Craft the messaging in a clear and concise manner to make it easy to understand.

Keep the readability score better to keep your readers hooked and rank the content on search engines for higher visibility.

Ask them to make it engaging and intriguing to readers, with a style and tone that captures their attention and motivates them to hit the CTA button.

Give the content a fresh angle for originality and uniqueness — not copy it from other websites. You can use plagiarism checker tools like Copyscape or Grammarly to measure this parameter.
Write it from the user's perspective to make it valuable and solve your target audience's pain points.
Instruct them to craft content with consistent quality and style, with an effective and unique brand voice to stand out in the competition.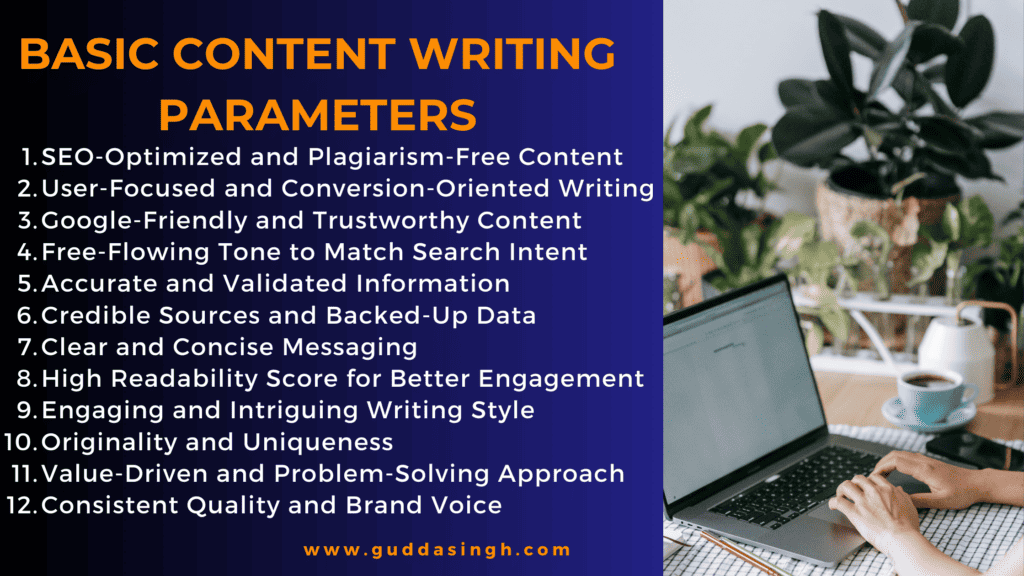 Check professionalism and communication skills
It is always better to work with a professional and disciplined person who possesses a strong work ethic. You can check how punctual and reliable they are before considering working with them.
See how responsive they are — how effectively they show up for set-up meetings without wasting time. Also, if they maintain set working terms to ensure you both remain on the same page.
Set up the right expectations with them for delivering quality work within the set deadline without making too much of revisions.
Decide the ways of communication before starting the work to keep you updated with the progress.
Video call works best for the initial meetings to make professional relationship when discussing the content need and working terms. After that, you can choose the right mode of communication as per your convenience.
Make sure they ask the right questions, to understand the need, probe expectations, and work effectively.
You don't have to set up an interview to gauge their professionalism and work ethics. You can clearly see and observe it during your first meeting.
Mostly, professional writers have well-designed websites and active social media profiles that show their expertise and work experience. Professional writers are mostly active on LinkedIn, so you can check their LinkedIn profile as their resume.
You can also ask for social proof like testimonials from previous clients to know your writer's professionalism and communication skills.
Delivering quality work is great but, also hire a freelance writer who is confident, reliable, punctual, responsive, and has strong communication skills.
Start With A Trial Period
If you don't have time to spend on the hiring process. You can always start with a trial period.
Initially, you can assign your writer a small project to get an idea of his capabilities. You can give him a blog post or an article to write to gauge his expertise.
With this small project, you can evaluate their content quality, writing style, grammar, spelling, and‌ other basic parameters based on your business requirement.
During the trial period, you will know if they can submit quality work within a set deadline.
Assigning a trial project will also give you an insight into their communication skills, such as their ability to ask questions, understand your requirements, and openness to feedback and revisions.
Basically, a trial period is good enough to evaluate your content writer's performance and decide if they are a good fit.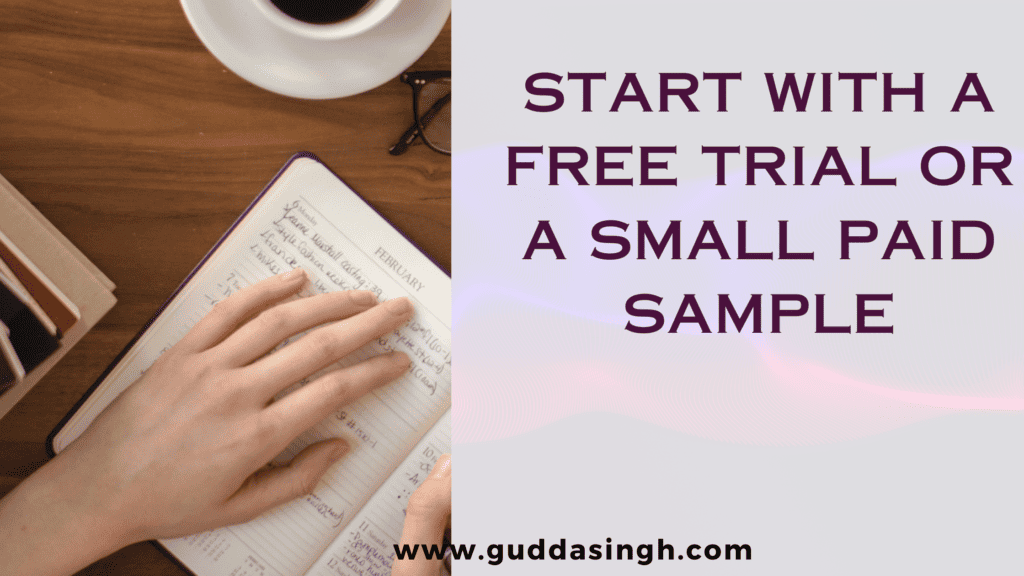 If they meet your expectations and produce good content to add value to your target audience, you can then move on to a long-term contract.
Final thoughts about hiring a freelance writer
To sum up this post, I'd say hiring a freelance content writer is a good investment for your business.
Being a business owner, you have limited time which you need to grow and scale your business. Creating high-quality content that resonates with your audience needs expertise in writing, storytelling, and marketing.
Lacking storytelling, customer psychology, and without an understanding of the latest market trend will only generate inconsistent messaging. Eventually, it will lead to poor ranking, low website traffic, and least to no conversion. This means creating content without having expertise in it will miss out on a lot of opportunities
Moreover, acquiring all these skills and then creating high-quality content will require you a lot of time and effort. So, it's better to outsource your content creation work to save time and get better results faster.
Don't forget to hire a freelance content writer who can understand your target audience, and business goals, and match your content strategy.
You can visit my service page or submit this contact form to discuss your content needs and see if we're the right fit to work together.
FAQs To Hire A Freelance Content Writer
How much do freelance writers charge?
The cost of hiring a freelance content writer can vary depending on their level of experience, the scope of the project, and the type of content needed. It's best to discuss pricing upfront and come to an agreement that works for you and your writer.
What are the best platforms to find freelance content writers?
Social media platforms like LinkedIn, Facebook, and Twitter are the best to find content writers. You can evaluate your writer's social media profile and connect with them in a more personal way. Freelancing platforms like ProBlogger, Upwork, and Freelancer offer a structured approach to finding your content writer from a wider pool of talent.
What is the industry standard for freelance content writing rates?
Rates can vary based on several factors such as the writer's experience, the type of content, and the industry you're in. Starting rates for content writing range from $0.05 to $0.10 per word, or $50 to $200 per hour. Some writers also charge per project basis depending on the scope of work. Writers specialized in industries such as finance or healthcare charge higher rates. You can negotiate rates with your freelance writer based on their experience and scope of work.
How can I ensure that the content produced by a freelance writer is original and not plagiarized?
You can use plagiarism detection tools, request references, and set clear guidelines on originality.
What are some best practices for working with a freelance content writer?
Clearly define your content needs and expectations, set a budget and deadline, and stay in touch with them during the project. You can choose a writer who has experience in your industry and then provide detailed instructions for the project. Respect their time and expertise, set up payment terms clearly, and provide constructive feedback to drive the project in the right direction.
What are the benefits of hiring a content writer?
Hiring content writers increase engagement, drives traffic, and saves you time with faster results. Professional writers deliver high-quality content with search engines' guidelines to boost visibility. With all these benefits your conversion increases and so does your revenue.